As I became a father, I pretty much continued to practice a family life that I learned from being a son. This is what we most often do. It is logical … mostly. But sometimes it's not.
The video story (if you prefer to read the story, please continue below the video):
Sure, it's logical that I act as I learned as a son from my first idol – my father – he made me what I am today. But is it always right? Is it logical to treat my kids in the same way that I hated to be treated as I was a small boy? For sure not!
Why am I then still doing it? Is it on purpose because I know it's a right thing to do? Or is it just more comfortable for me to walk the same type of bonding path that's engraved in my brain?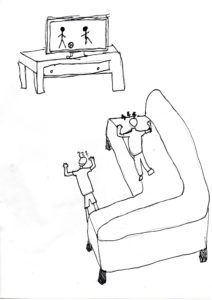 Let me share an example. I am watching an exciting football game, and my son joins me in the middle of the game. He starts asking questions, one after another, either connected with the game or even not. At first, my answers are helpful and friendly, but slowly I am becoming more and more impatient. My emotions start to boil. Why doesn't he just let me watch the darn game? Can't he see that I am nervous? Why didn't he watch the game from the very beginning?
Does it sound familiar?
But let's observe from another perspective. What is the kid really doing? Why is he asking all those questions? Does he really want to drive me crazy? Sure not – he is doing the most normal thing the kids do – he is learning for life. And with my impatience, I am killing his curiosity and hindering his intellectual potential. This way he will only learn to limit his interest.
Is this what I want? Sure not. But why am I then getting impatient? To answer that question, I took a look into my childhood. And I saw the same story – my father watching Petrocelli and me lying on a floor and asking and asking … and feeling guilty for it. Old school family quality time.
This is how I learned and grew up. With lack of emotional persistence. It's not my son that asks too many questions. It's me, I am too weak to deal with them.
Realizing that was already hard enough. But it was only the first step – next and much more difficult one was to strengthen my emotional persistence. And that is a long way that I want to share with you on this blog.
Stay tuned.