Today I will write about the importance of menu and shopping planning.
»Hi honey, I'm home.«
»Hi, how was your day?«
»Good, thanks, and yours? When did you come home?«
»I am fine, thanks. I just arrived a few minutes ago.«
»OK, great. What's do we eat for dinner today?«
»Oh, let's check what do we have in the fridge ….«
This is how a typical afternoon looked like also in my family a few years ago.
Does it sound familiar? Actually, it's sometimes helpful to do things spontaneously, but is it nice to function like this every day? It may work as long as the fridge is fully loaded with all kinds of tasty food.
Planning of activities, resources, and costs is a basis at every company – it is crucial to know what we will do, how much it will cost and how much we will earn. But when it comes to our family environment, it is sometimes so hard.
If we just focus on food – lack of menu planning has several negative consequences:
Monotonous and unhealthy meals – if we don't plan menus, our choices are of course limited to dishes that are »stored« in our head. Often, the selection of food is even further narrowed by pickiness of family members.
Higher costs – it is difficult to optimize the costs if we don't even know what food do we have to buy; we have to go shopping more often, and often we just order a pizza/Chinese food over the phone.
Too high food stock in pantry – poor menu planning leads to poor shopping planning and consequently to overbuying.
Throwing away food with expired shelf life.
This was pretty much the model that we used to follow. Until a few years ago when we decided to start to plan our menus and shopping. There were several reasons for this decision, but the key was that we wanted to improve the quality of our meals. It was a win-win situation – the new package included many other benefits, as well.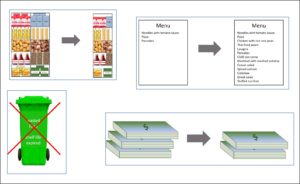 Here are the results:
Healthier, more tasty and heterogeneous meals
Burden divided to more cooks – suddenly all family members started to contribute own cooking potentials
Reduced food stock – area, needed for pantry was decreased by 50%
Costs for food reduced by 30%
Food with expired shelf life was almost eliminated
How did we do it? That's a million dollar question. But you will find the answers in the upcoming weeks and months here on my blog. Just keep following it.
Stay tuned.